---
STUDENT COMMENTS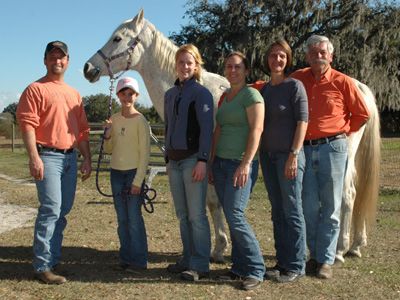 "Dr. Hampton's teaching method is direct and clear. He makes sure everyone understands all of the key points, and the use of horses during the class to practice new moves really reinforces what has been learned. As a veterinarian, I was able to practice chiropractic on horses with confidence after the two day seminar. Dr. Hampton is also very accommodating with questions and wants everyone to succeed. I highly recommend the course."
Tara Gaston, D.V.M., M.S.; St. Cloud, Florida
Doctor of Veterinary Medicine, Master of Science
Seminar Location: Kissimmee, Florida
---
"If you are interested in equine chiropractic, then you should take this course. It is a packed weekend with plenty of hands-on practice and all of your questions answered. Dr. Bill Hampton is an excellent instructor - obviously an expert in his field, clear, organized and has a good sense of humor."
Sharon Heckert, D.C.; Capitola, California
Doctor of Chiropractic
Seminar Location: Watsonville, California
---
"I want to thank you for the class you gave. This is the one of the few equine classes I've had where I can honestly say it was well worth every penny. I am normally grateful to take away five new pieces of 'useful' knowledge from any equine seminar – with your class, I can't even begin to quantify what I've learned. I really learned a lot and I'm looking forward to applying my new knowledge to adjusting my horse."
Kevyn Schneider; Kingwood, Texas
Sr. Business Intelligence Architect
Seminar Location: Houston, Texas
---
"Thank you again for a fun time of learning last weekend, Dr. Hampton! I felt I gained a lot from a palpation, diagnostics and physical exam approach and now have some tools to start working with. Hopefully after a couple hundred horses, I'll have a better feel for treatment and outcomes."
Stephenie Hoke, DVM, MS; Conifer, Colorado
Doctor of Veterinary Medicine, Master of Science
Seminar location: Denver, Colorado
---
"I greatly enjoyed the clinic this past weekend. It was the best learning seminar/clinic I have attended in years."
Jim Daniel, D.C.; Murfreesboro, Tennessee
Doctor of Chiropractic
Seminar location: Taft, Tennessee
---
"As a former human physical therapist, who has been performing body work on horses for the past five years, I found Dr. Hampton's two day seminar to be invaluable to the straight forward teaching method that culminates with the one-on-one instruction of the students performing the techniques is very effective. Dr. Hampton has a knack for having a finger on the pulse of each individual student's needs and interacts accordingly. I left the course feeling comfortable and competent with the material that was presented."
Kelly Flowers, MPT, ESMT EQUI-Ther, LLC; Louisville, Kentucky
Masters in Physical Therapy, Certified Equine Sports Massage Therapist
Seminar location: Taft, Tennessee
---
"Thank you for a great in depth chiropractic class in Kissimmee! Dr. Hampton taught us what visual symptoms to look for in the horse, how to evaluate the range of motion and feel & find muscle spasms in the equine spine. He made sure we had the adjusting techniques right and made us understand what we were doing and why. I definitely feel more confident now, and looking forward to bringing all my new knowledge back to Norway."
Elisabeth Haukeland; Norway
Certified Equine Therapist
Seminar location: Kissimmee, Florida
---
"Thanks for a wonderful couple of days in Norway. It was a great learning experience. Indeed, the skills learned over the course are applicable as soon as returning home. In fact, I treated a couple of horses the day after the course with good results. Chiropractic never ceases to amaze me!"
Dr. Michael Vianin, D.C.; Switzerland
Doctor of Chiropractic
Seminar location: Oslo, Norway
---
"I just wanted to write to thank you for your seminar. I had a great time and would highly recommend it to anyone who asks. Your style of teaching made it very easy to learn and helped everyone to feel like they were getting the most out of their experience."
Loren Altman; Kittanning; Pennsylvania
Certified Equine Massage Therapist
Seminar location: South Carolina
---
"Thank you for your time, your patience, kindness and your vast knowledge & experience, mostly for helping all of those horses out there. The things you are teaching are gifts that will change the lives of so many."
Pamela Weber; Halsey, Oregon
Owner, Camille's Black Dog Lavender Farm
Seminar location: Sacramento, California
---
"I really appreciated that all the information was presented in an organized, professional and fun manner! I'm grateful to have the manuals & DVDs to review at home as well. My horses mean the world to me and it's so empowering to have the tools to provide them with chiropractic care necessary to not just achieve the goals I have, but also to improve our relationship and keeping them as happy and healthy as possible. In helping a horse, you may not change the world, but you do change the world for that horse, and their owner. I'm completely grateful for the opportunity to meet and learn from you."
Heather Smith, LVT; Web Designer; Wyoming
Licensed Veterinary Technician
Seminar location: Buffalo, Wyoming
---
"I would without any doubt, whatsoever, recommend to any horse enthusiast or practitioner to attend your seminar, although my selfish side hopes they don't, that way I will always have the edge on fixing the ailments of our equine friends."
Noel Cunningham; Melbourne, Australia
Seminar location: Galt, California
---
"I attended Dr. Hampton's two day clinic in Jacksonville, Florida for owners who want to learn about chiropractic work and/or work on their own horses. It was incredible and I plan on attending a few more to really get everything that I can to work on my own horses. I would highly recommend going to the clinic if he is in your area-it's worth traveling some distance if you have to."

Cindy Pullen; Lakeland, Georgia
Guild Certified TTEAM Practitioner, Connected Riding Practitioner
Seminar location: Jacksonville, Florida
---
"I have been an Equine Body Worker since 1991, beginning my training with Equine Rolfing and taking many different courses and seminars since then involving numerous modalities. I have to say that Dr. Hampton's two day seminar has been the best bang for the buck so far. I highly recommend it to anyone from horse owners that want to be aware that they have structural issues with their horse, to seasoned equine body professionals alike.
Mike McCaffrey, L.M.P., L.A.M.P.; Sumas, Washington
Licenced Massage Practitioner
Seminar location: Sweet Home, Oregon
__________________________________________________________

"I just want to thank you again for this past weekend. I cannot express to you how valuable this time was to me and how excited I am to use this in my veterinary career. I've already seen patients at the hospital evaluating from afar (one of which has a MRI, CAT scan, Bone scan and no lameness cause has been found). I am really amazed at how much chiropractic can benefit patients. Again, thank you for your gift of knowledge. I appreciate it far more than you know."

Grace Gore; University of Missouri, Veterinary College, graduating Spring '13
Seminar location: Raymore, Missouri
____________________________________________________________
"So many wonderful people and such a great, great class with more information to use as I come back and have more hands-on experience. This was so thorough and complete with great explanation of the materials and the hands-on with you following up to check our work-it feels good! I need to attend at few more refresher clinics, but this was wonderful and worth way more than the money paid. I can't thank you enough for coming to Missouri."
Dr. Jacquelyn Gates, D.C., A.O.; Lees Summit, Missouri
Doctor of Chiropractic
Seminar location: Raymore, Missouri
____________________________________________________________

"I completely enjoyed your class this weekend! It was more than words can explain! I have had a passion for horses all of my life and have always felt a calling to help animals. You have given me a new outlook on life. You have inspired me to learn more about equine chiropractic. I can't thank you enough for being such a wonderful instructor and especially taking time out of your day to simply.......teach! I'm on a new mission in life, thanks to you!!"
Jeannie Hunter
Bozeman, Montana
Seminar location: Billings, Montana
_________________________________________________________

"Thank you for the wonderful class on Equine Chiropractic procedures. Your class was very well organized and well supported by visual aids, DVDs and your work book. The degree of organization and planning made the course enjoyable and informative. It allowed me to master new material and will get me started as a beginner in equine chiropractic. Your hands-on approach was very effective. The repetitive nature of learning made sure that everyone was exposed to the supervised analysis of the horse and the application of manual methods in treating the various equine subluxations and dysfunctions affecting the spine and extremities. I look forward to taking more classes from you in the future. It was refreshing to be instructed in chiropractic philosophy, a much neglected topic in modern human chiropractic education. Your class proves that after 36 years in human chiropractic practice, an old dog can still learn something new and exciting."
Maurice Smith, D.C.; Oregon City, Oregon
Doctor of Chiropractic
Seminar location: Oregon City, Oregon
___________________________________________________________

"Thank you so much for the class. I learned a lot and appreciate your easy going, cheerful teaching style. It was great to meet you and to get an introduction to chiropractic. I would be pleased to participate in your clinic again someday."
Dr. Julia Moore, DVM, MS; Corvallis, Oregon
Doctor of Veterinary Medicine
Seminar location: Oregon City, Oregon
___________________________________________________________

"Thanks for a fantastic, informative weekend. A perfect mix of practical and hands-on... You have a wonderful way of breaking down a lot of information into easily digested pieces. Can't wait to get started on my own horses this morning. Please let me know when you are next in the U.K."

Karina Hawkridge, DipAPhys. IAAT; United Kingdom
Tadcaster Animal Physiotherapy
Seminar location: United Kingdom
___________________________________________________________

"Thank you ever so much for a fascinating weekend. I found your seminar absolutely brilliant not only for the amazing depth of your knowledge, but also for all the other gems of wisdom you are happy to share with us, all to better the health and well being of our animals. Your attitude toward the students and more importantly the animals was a joy to behold. The way you made the seminar highly informative, but also very understandable and enjoyable was great. Just a final note, on Monday morning I went with my parents to look at one of their race horses that the trainer felt was not quite right. Using your training, I found a poll, withers and lumber issues with the horse and did my best to correct them. The next morning the trainer rang me to report how much better the horse came out of his box that morning and is now moving smoother than he ever has. It was an absolute pleasure to meet and learn from you."
Darryl Hopper, Greyhound Race Owner/Trainer, Ireland
College of Animal Physical Therapy Student, United Kingdom
Seminar location: United Kingdom
___________________________________________________________
"Just wanted to thank you again for an awesome seminar this past weekend. You are an excellent lecturer and you were incredibly knowledgeable on the subject! I was fortunate enough to adjust four horses tonight and I was thrilled with the outcome. The examination procedures that you taught us are very thorough and I was able to include the lower extremities and the jaw in my evaluations. Thanks again for everything. I'm excited to go out and do more. I can't wait until you have another seminar on the east coast, I'll be there for sure."
Dr. Sam Barrett, D.C., Kittanning, Pennsylvania
Chiropractic and Injury Rehabilitation Centers, LLC
Seminar location: York, Pennsylvania
___________________________________________________________

"I loved the workshop and I have practiced three times in two weeks on my horses. Ready to work on my two mini horses, one gets his stifle out once in awhile. I love the work you do and will see you in Oregon if you have another workshop close. Thanks again for a great class and keeping me on your email list."
Melanie Rae, Silverton, Oregon
Owner, Spirit Horse Graphics
Seminar location: Oregon City, Oregon

Dr. Hampton with Remmer, Linda Parelli's Dutch Warmblood gelding.