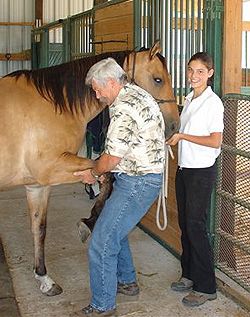 William (Bill) Hampton, born and raised in San Jose, California, a veteran of the U.S. Army serving a tour of duty in Vietnam in 1969, returned to resume his career as a land surveyor with the City of San Jose while continuing his undergraduate college studies. Dr. William Hampton, D.C. received his Doctor of Chiropractic degree (D.C.) in 1977, graduating from Cleveland Chiropractic College, Los Angeles, California, then opened his human chiropractic office in San Jose, California practicing in the same location for the following 25+ years. During his chiropractic practice he was an instructor at Palmer College of Chiropractic for seven years, teaching Gonstead Chiropractic Adjusting Technique, X-ray Interpretation and the Philosophy of Chiropractic. Always having a love for animals, owning several dogs, cats and horses, he began working with all quadrupeds in the early '80s. After retiring from practice in 2002, he devoted full time practice to quadrupeds, specializing in equine, and is a Certified Quadruped Adjuster with the International Association of Veterinary Chiropractors (IAVC). Licensed by the New Mexico Horse Racing Commission and the California Horse Racing Association, he worked for the largest Horse Trainers at Golden Gate Field and Bay Meadows Race Tracks located in the San Francisco Bay area. As a co-instructor of the west coast division of Animal Chiropractic Seminars conducted by Dr.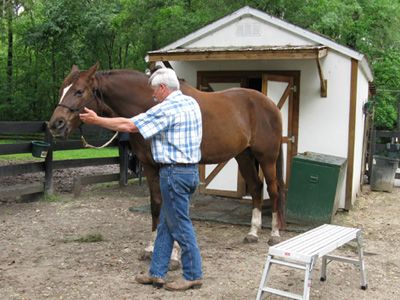 Daniel Kamen, D.C. from 2002 - 2008, Dr. Hampton currently conducts Equine and Canine Seminars worldwide.
Dr. Bill Hampton is the Chiropractor for Parelli Natural Horsemanship at the Colorado and Florida training centers and works personally with Pat & Linda Parelli, as well as their
students and instructors.

Dr. Hampton with Allure, Linda Parelli's Trakehner gelding.